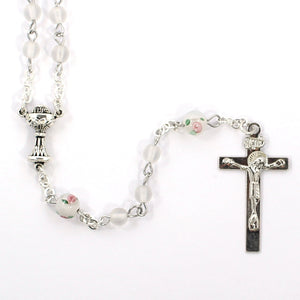 Rosaries are perfect gifts for Baptism, First Communion, Confirmation, Weddings, or anyone wanting to spend time in meditative prayer.
The rosary measures 24 inches and is made with:
* 6mm matte white Czech Hail Mary beads
* 8mm white floral Czech Pater beads
* 1.5-inch silver-plated crucifix
* .75-inch silver-plated chalice centerpiece
All rosary orders include an instruction pamphlet on how to pray the rosary.
Don't forget to have your rosary blessed before gifting or praying it yourself.