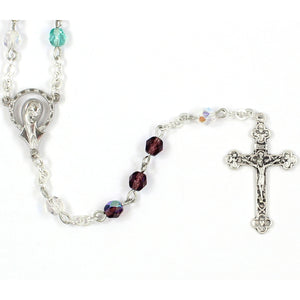 Rosaries are perfect gifts for Baptism, First Communion, Confirmation, Weddings, or anyone wanting to spend time in meditative prayer.

On each color of this rosary, we pray a specific prayer.

On the purple beads pray for an increase of the virtues of Faith, Hope, and Charity.

Aqua – Pray for the intentions of the Immaculate Heart of Mary.
White – Pray for peace.

Red – Pray in reparation for the blood spilled with every abortion.
White – Pray for mothers and fathers of aborted babies.

Black – Pray for the members of the medical profession who participate in abortions.
White – Pray for conversion, repentance, and courage to stand for life.

Red – Pray for the reversal of anti-life laws.
White - Pray for the protection and strengthening of pro-life laws.
Blue – Pray for new and binding pro-life legislation.

Green – Pray for all those who work to defend life.
White – Pray to draw all souls to Jesus.

This Pro-Life Rosary measures 22 inches and is made with:

* 6mm AB glass beads
*1.5-inch oxidized metal Liturgy crucifix
* 1-inch zinc alloy Madonna centerpiece.

The beads have an AB coating which gives them a subtle shimmer.

All rosary orders include an instruction pamphlet on how to pray the rosary.

Don't forget to have your rosary blessed before gifting or praying it yourself.