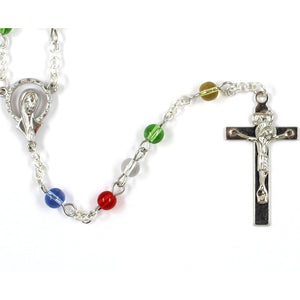 Rosaries are perfect gifts for Baptism, First Communion, Confirmation, Weddings, or anyone wanting to spend time in meditative prayer.
The World Mission Rosary was created by Archbishop Fulton J. Sheen in 1951. "We must pray, and not for ourselves, but for the world," he exhorted. Each decade of the rosary is made with different color beads for which we pray for people of the world.
* Green is for Africa, with its many trees and plants. Pray for the people of Africa.
* Blue is for the islands of the Pacific, surrounded by the ocean waters. Pray for the people of the Pacific.
* White is for Europe, home to the Pope, clothed in white. Pray for the people of Europe.
* Red is for the Americas, where missionaries journeyed, "on fire" with faith in Jesus. Pray for the people of the Americas.
* Yellow is for Asia, where the sun rises first each day. Pray for the people of Asia.
This World Mission Rosary measures 23 inches and is made with:
* 6mm glass beads
* 1.5-inch silver-plated crucifix
* 1-inch zinc alloy centerpiece
All rosary orders include an instruction pamphlet on how to pray the rosary.
Don't forget to have your rosary blessed before gifting or praying it yourself.