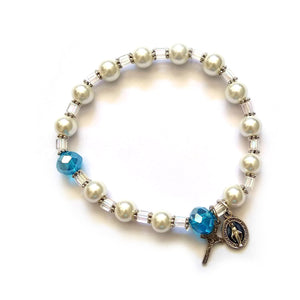 Fits a 7 1/2 inch wrist
8mm white glass pearl Hail Mary beads
8mm blue glass Our Father beads
Crucifix

Miraculous Medal

Rosaries are perfect gifts for Baptism, First Communion, Confirmation, Weddings, or anyone wanting to spend time in meditative prayer. All rosary orders include an instruction pamphlet on how to pray the rosary.
Don't forget to have your rosary blessed before gifting or praying it yourself.